ABOUT
Formed in 2014, Anatomical is led by award-winning dancer/choreographers Anna Williams and Tom Roden.
Rooted in the shared inter-generational experience of making and creating together, Anatomical place families at the heart of their work.
We encourage audiences to unleash their imaginations and embark on collective adventures; through drawing together in The Doodle Dance Show, constructing cardboard boxes for the landscape of the Buildy-uppy Dance Show, or helping to dream up Snowed In's incredible imaginary hotel.
Their growing body of work has been enjoyed by thousands of families across the UK.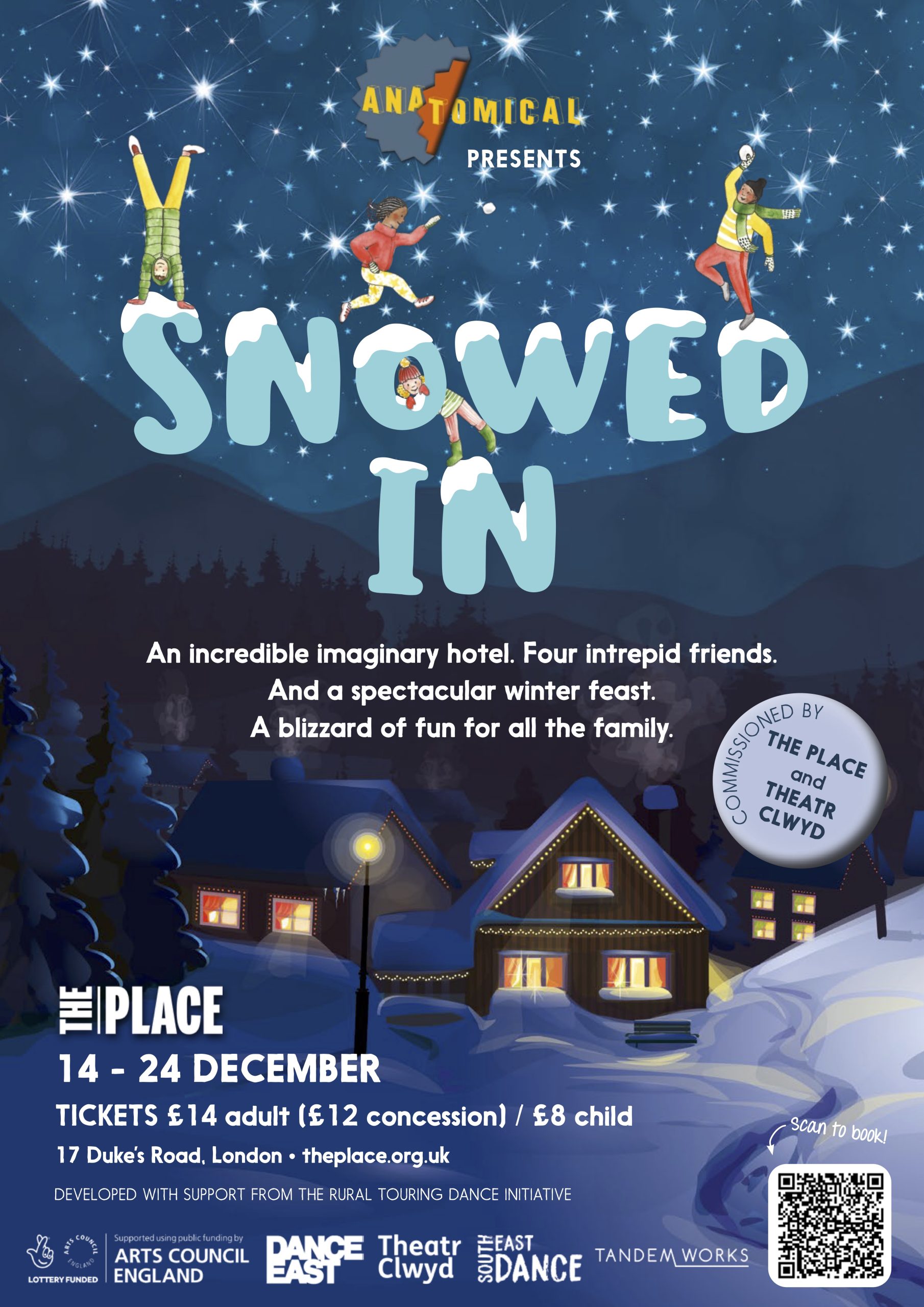 Anatomical presents
SNOWED IN
14 – 24 December, The Place, London. Ages 5 +
Commissioned by The Place and Theatr Clwyd
There is a village
high up in the mountains
and in the winter the village glistens with frost
Four friends wake to find they are completely snowed in, and a magnificent adventure unfolds in this playful, interactive family show.
Our friends dream up an incredible imaginary hotel. A place where magical dances and stories are discovered. A topsy turvy world where adults are nowhere to be seen. They're free to dance down corridors, to sing their hearts out, to throw snowballs, and to venture into the mysterious Room 251…if they dare.
Make your reservation now and join in the festivities.
Snowed In is brought to you by the award-winning duo behind the creation of The Buildy-uppy Dance Show and The Doodle Dance Show
Suitable for ages 5+
Click here to make your reservation and join the festivities.
Running Time: 60 mins
Supported using public funding by the National Lottery through Arts Council England and developed with support from the Rural Touring Dance Initiative. Produced by Tandem Works. With thanks to DanceEast and South East Dance.